The Rare Celebration on New Year's in Dubai

In Dubai, New Year's is celebrated a little differently than in most places. For one, the city comes to a standstill as everyone heads indoors to avoid the heat. And instead of countdown parties and fireworks displays, locals mark the occasion with a more subdued affair.
New Year's Fireworks in Dubai
One of the most popular things to do on New Year's in Dubai is to watch the fireworks display at Burj Khalifa, the world's tallest building. The fireworks are synchronized to music and last for about 10 minutes. They can be seen from many places around the city, but the best spot is probably from one of the many rooftop bars.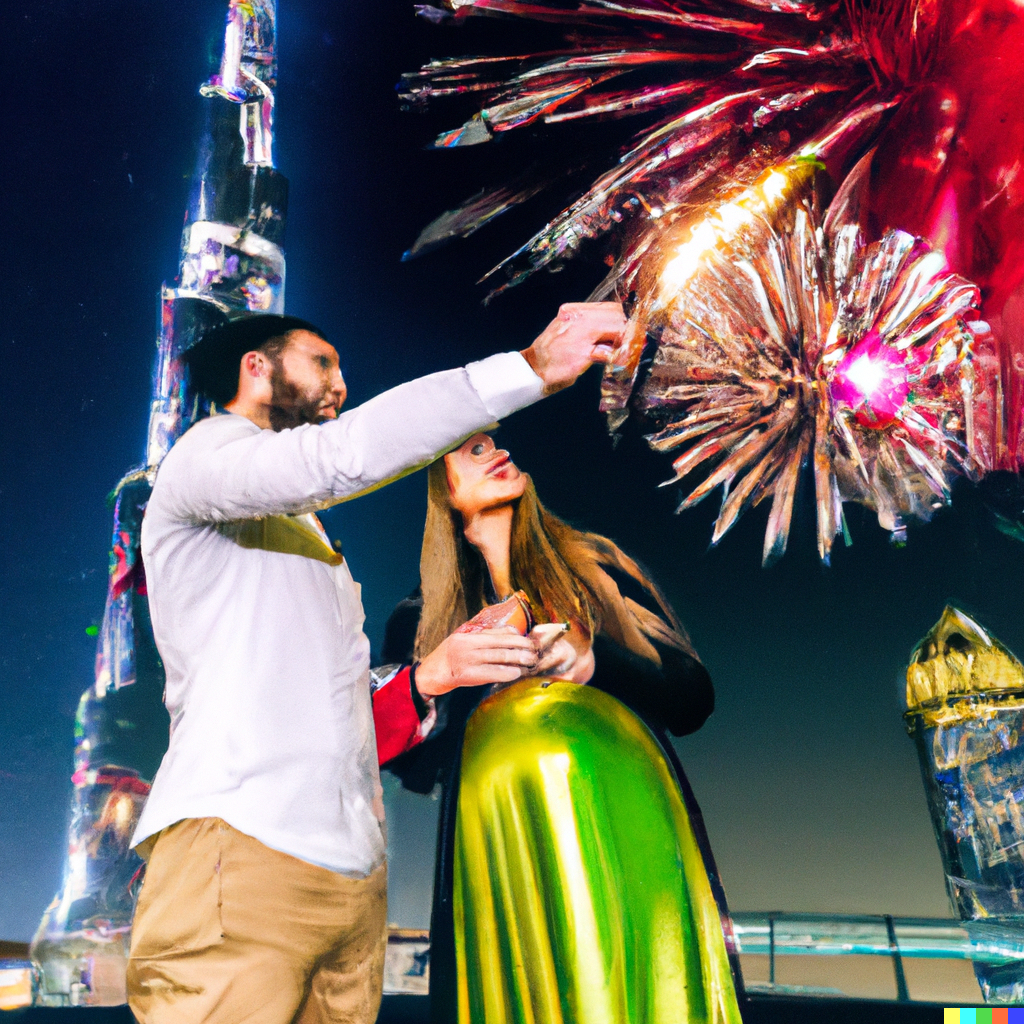 Animals Celebrating New Year's in front of Burj Khalifa
On New Year's Eve in Dubai, Burj Khalifa - the world's tallest building - is illuminated with a dazzling light show. But this year, something special happened. A group of animals gathered in front of the building to celebrate the occasion!
The rare celebration was captured on video and shared on social media. In the footage, a herd of camels can be seen milling about near the base of Burj Khalifa. A zebra and an ostrich were also spotted in the group, along with a number of other animals.
It's not clear exactly why the animals were gathered there, but it's certainly a sight to behold. And it just goes to show that Dubai really is a city like no other.

Using Dall-E for Depicting That Visual
There are many things that make Dubai a unique and special place to celebrate New Year's. One of the most interesting aspects is the use of Dall-E for depicting visual scenes from the holiday.
Dall-E is an artificial intelligence program that can create images from textual descriptions. This means that it can take a description of a scene and turn it into a realistic picture.
Dubai has been using this technology to create images of what New Year's celebrations might look like in the city. The results are absolutely amazing, and they give us a rare glimpse into how this holiday is celebrated in Dubai.
It's truly fascinating to see the Dall-E images of Dubai's New Year's celebrations, and we hope you enjoy them as much as we do!


The New Outlook of AI for Visualizing Thoughts
The new year is a time for reflection, and what better way to reflect on the past year than by writing a blog post? For those of us in the UAE, the past year has been a roller coaster ride. From the highs of Expo 2020 to the lows of the pandemic, it's been a year like no other.
But despite all the challenges, there's one thing that remains constant: our love for Dubai. This city is our home, and we're proud to be part of its story. As we look ahead to the next chapter, we're excited about all that Dubai has to offer.
In particular, we're excited about the potential of artificial intelligence (AI) to help us visualise our thoughts and ideas. We believe that AI can help us create a brighter future for Dubai, and we're committed to exploring its potential.
We're not alone in this belief. AI is already being used in a variety of ways in Dubai, from powering self-driving cars to helping businesses make better decisions. And as the technology continues to develop, we believe there's even more potential for AI to make a positive impact on our lives.
So what does this mean for Dubai in the future?


Happy New Year to Humans, AI, and Animals
Happy New Year to all my readers, both human and AI! I hope everyone had a great holiday season and is looking forward to an even better year ahead.
In Dubai, New Year's is a time for celebrating with family and friends, and of course, indulging in some delicious food. One of the most popular dishes during this time is lamb machboos, which is a rice dish with lamb and spices. Another favorite is date pudding, a sweet dessert made with dates, eggs, and butter.
Of course, no celebration would be complete without fireworks. Dubai is renowned for its spectacular displays, which can be seen all across the city. So whether you're watching from your balcony or heading down to one of the many viewing areas, make sure to enjoy the show!


Written by an AI, compiled by a human.
#AIservingAI