Introduction

This is a brainstorming assignment to create a 2x2 matrix of research questions. It is a 4-part process involving the creation of domain, framework, intervention, and the matrix.
The objective of the project is to create a series of guiding questions for myself, which can help me in my future projects.

Research Questions

Here is the matrix of my research questions:

Accessibility
(Education)


AR and VR
(Experiences)


Visual Storytelling


Immersive Experience
(Bosch and TeamLab)


How can immersive experiences be made accessible to everyone?


How can we create interactive stories that are captivating and accessible?


Animation
(Designed by Apple in California)


How can we do simple group interactions in VR/AR to increase adoption?


How can we make animated stories accessible for interaction?

Dystopian Mindset
(VR, AR)


AR and VR
(Experiences)


Visual Storytelling


Immersive Experience
(Bosch and TeamLab)


How can interactions in a virtual world be seen in a positive light?


What kind of stories can change the mindset of people about technological interactions?


Animation
(Designed by Apple in California)


How can animation educate people about the use of immersive experiences?


How can heartfelt stories remove the dystopia about technological adoption?

Process

I started by creating a flowchart of all the work that I have done throughout my life: projects, activities, assignments, and hobbies. I divided the flowchart into 4 parts: work done during early school and high school, work done during my bachelor's degree and my time in Dubai, work done while I was running a business and what I learned from it, and finally the work that I have done in the last 6 months at Parsons.

Domain

Once I had an assessment of the work I had done, I started looking up the work of other artists and companies. In the second week of January, I also got a chance to visit the Consumer Electronics Show 2019 in Las Vegas. So, CES was a massive inspiration for work being done in technology, and what is the trend for the future.
First, I listed all the work that I had found interesting at CES and through my online research.

Then, I highlighted the work that I found the most relevant and tagged them in different groups.

Framework

After completing the domain, I went back to my flowchart to highlight the tools and terms that I find useful. I categorized them and selected the framework that suits my interests.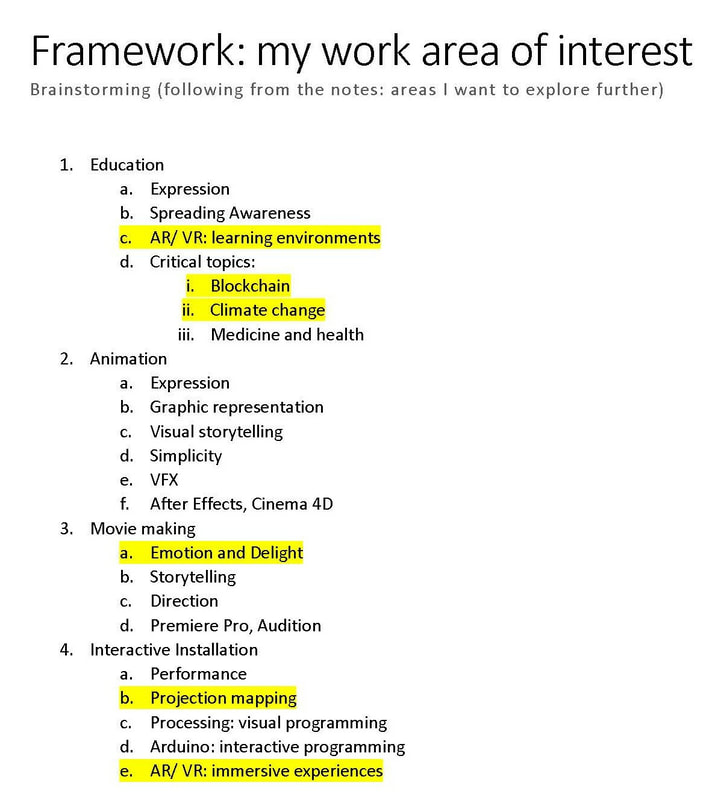 Then, I tagged them based on the terms I relate to in that framework.

Intervention

Then, I chose my topics of interest inside design and technology, and outside my field. The idea was to look for intervention in these areas or the gaps that can be filled.

Next, I researched each of the topics to find key areas which need intervention. I researched through online papers, blog articles, TED Talks, YouTube videos, news, among other sources.

2x2 Matrix

After completing the process of domain, framework, and intervention, I picked the two most important topics from each of the categories: 2 from the domain, 2 from the framework, and 2 from intervention.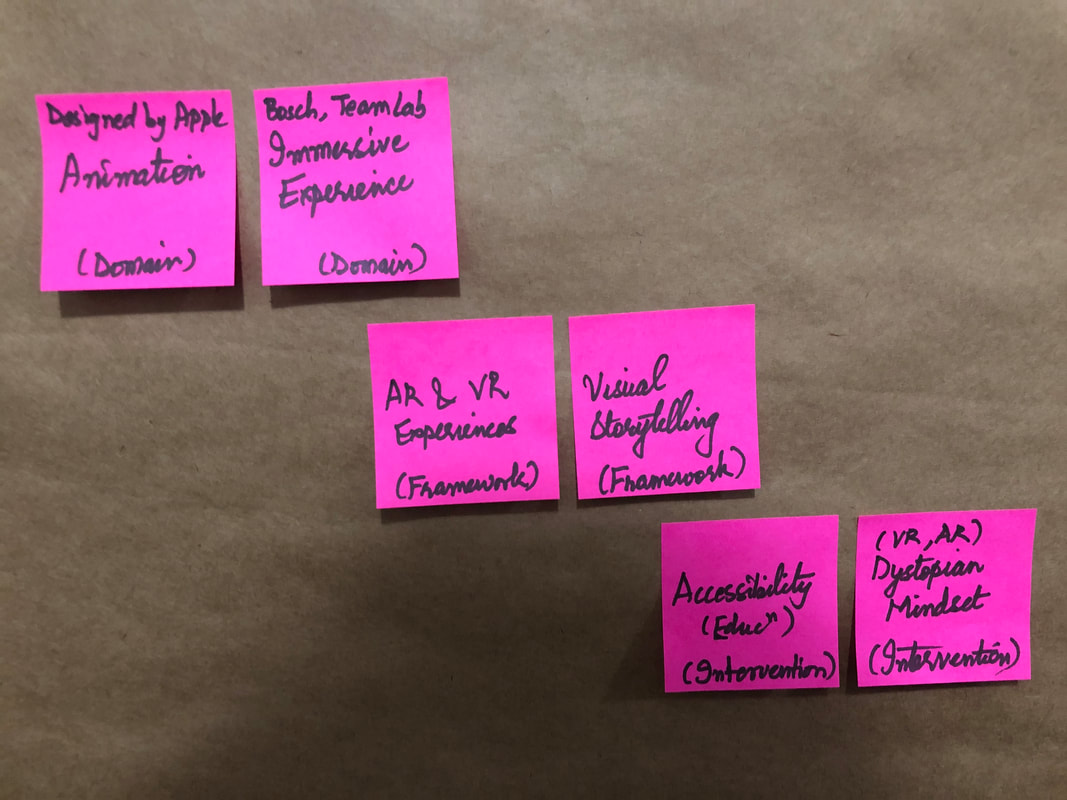 Then, I created a matrix of questions for each of the intervention, based on the selected domain and framework.